Healthy food is crucial for a child's growth, but it is also a well-known fact that most kids are not good eaters. So, how do you ensure that they get all the nutrients they need to grow healthy and strong. One good way to make kids eat healthy is by offering them healthy snacks prepared and presented in a smart way. While pediatricians and dieticians recommend that kids should have at least one snack a day, we say they can have more than one if that helps their diet and they are happy.
Snacking every few hours can actually help picky eaters, eat well and get all the nutrition they need for proper growth. The only important thing to be taken care of in this arrangement is to ensure that the snacks are healthy. Here we have created a list of healthy snacks that are advisable for your kids. These snacks are nutritious and will take care of mid meal hunger pangs in a healthy way.
Flaxseed Waffles Or Muffins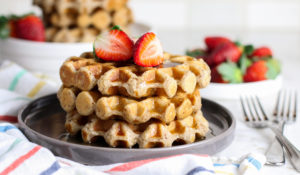 Flaxseed is full of Omega-3 fatty acids which are very good for brain development. You should think about including this in your kids' diet. Try using ground flaxseed to make yummy waffles or add 1/4th cup of ground flaxseed to your favorite muffin recipe. You can also use ground flaxseed while making bread, pan cakes and other baked goodies.
Tofu Smoothie Or Ice Cream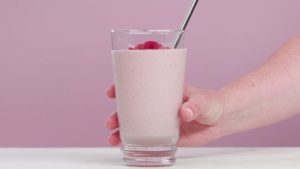 Kids do not like Tofu when served whole but what if you could sneak some of it in their favorite smoothies and ice creams. Tofu, when added to smoothies and ice creams provides a rich creamy base and goes undetected. It brings to the table some much needed nutrients like calcium, protein, vitamin B and iron; all of which are needed for the bone health of the kids and their growth. So, next time you make your child's favorite ice cream or smoothie, add tofu to it and watch them enjoy a healthy snack.
Baked Sweet Potato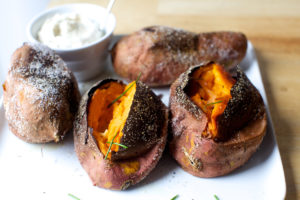 Sweet potato is loaded with Vitamin A which is very good for the eyes. Most kids eat sweet potato when they start solids but over the time, this nutritious and inexpensive vegetable is completely forgotten. Put it back on your menu in a tasty way. Bake a sweet potato and sprinkle it with cinnamon sugar, other interesting toppings like chocolate syrup (any other fruit syrup) or vanilla yogurt and offer it to your child as a snack. A sweet potato is quite filing so it will take care of hunger while providing Vitamin A.
Yogurt With Fruits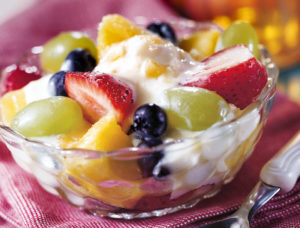 Yogurt is a good source of good bacteria which keep our stomach hale and hearty. Thankfully, most kids love yogurt but if yours doesn't, here is a simple snack that will make them eat yogurt. Please note that the flavored yogurts available in market are mostly low in protein and good bacteria. So, always go for plain yogurt or Greek yogurt. Now coming to the recipe, take a martini glass, add crumbled wafers to its base. Now, add a layer of freshly chopped fruits. Top it up with two spoons of yogurt and cover it with a foil. Place it in the refrigerator for half an hour if you would like to serve it cold. Offer one glass to each kid at snack time and do not mention anything about yogurt. They will never know.
Hummus Dip With Nachos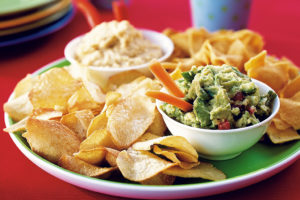 Hummus is a healthy dip which is made up of garbanzo beans and olive oil. It is a perfect snack dip for kids who would want their food to not look like vegetables. A hummus dip provides a good dose of fiber, protein and complex carbs which are essential for growing children. One really good way to fill up little tummies is to offer nachos with hummus dip. You can also try a combination of home-made bread sticks with hummus dip. Baked carrot, potato fingers, pita chips also work well with it. Hummus can also replace mayonnaise in sandwiches and wraps.
Buying healthy food for kids is easy but making them eat is a one of the most difficult jobs parents have to do on a daily basis. If you are currently banging your head on the wall because your child won't eat, try the snacks mentioned above. Your kid is sure to like them and will rack up on nutrients unknowingly. What a bliss!
And After… Adults-Only Moment With SisLovesMe

After you are done with preparing snacks for your loved ones you should head to SisLovesMe for some quality entertainment. Forget about finding this series on Netflix or HBO – it's a totally exclusive production featuring the silliest actions between step siblings. And it's definitely not family-friendly content. When you are alone – head for SisLovesMe!